The Spicy Affair Indian Experience
Spicy Affair is the brainchild of Jixon and Ilana Chirayil. Jixon was born in Kerala, India and has specialised in the cooking of south and north Indian cuisine for the last 18 years. Ilana has an extensive background in the hotel industry.
At Spicy Affair our philosophy is simple, we aim to convey our passion for Indian cuisine in a way which gives you a perspective on our quest for perfect ingredients, technique, and a deep-seated desire to continue learning and evolving through old traditions and modern tastes.
Spicy Affair's menu embodies a unique blend of ethnic and progressive dishes, and the restaurant is renowned as the home of traditional Indian cuisine.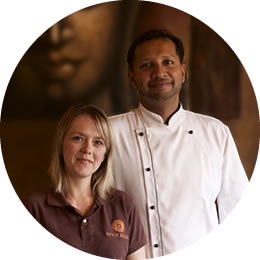 View our gallery